"Everyone can experience the joy and blessing of generosity; because everyone has something to give."
– Jan Grace

Dear Bethany Friends,
The blessings of your generosity bring joy to our Bethany Health Care Center residents in many ways every day! And because you gave to Bethany, some much-needed medical equipment has been added to Bethany's on-site therapy suite, addressing the daily physical rehabilitation and pain management needs of our residents.

The OmniVersa Multi-Modality Therapy System combines electrotherapy and ultrasound – featuring integrated, evidence-based clinical protocols, ultrasound and a variety of electrical stimulation waveforms to effectively address acute, sub-acute, and chronic pain presentations for superior pain reduction, neurological re-education programs for stroke recovery, and fall prevention.
This therapy system is used to help residents with fall prevention, stroke recovery, pain management, wound healing, and generalized strengthening.

The OmniVersa Shortwave Diathermy System (demonstrated by Danielle Westerman, Director of Rehabilitation Services) helps to increase circulation and reduce pain and inflammation, decrease joint stiffness, relieve muscle spasms and increase blood flow.
Applied to the patient through a large applicator head, the OmniSWD may be used to assist in the treatment of soft tissue injuries, slow-healing wounds and arthritis, problems that can be common in an aged population like our Bethany residents.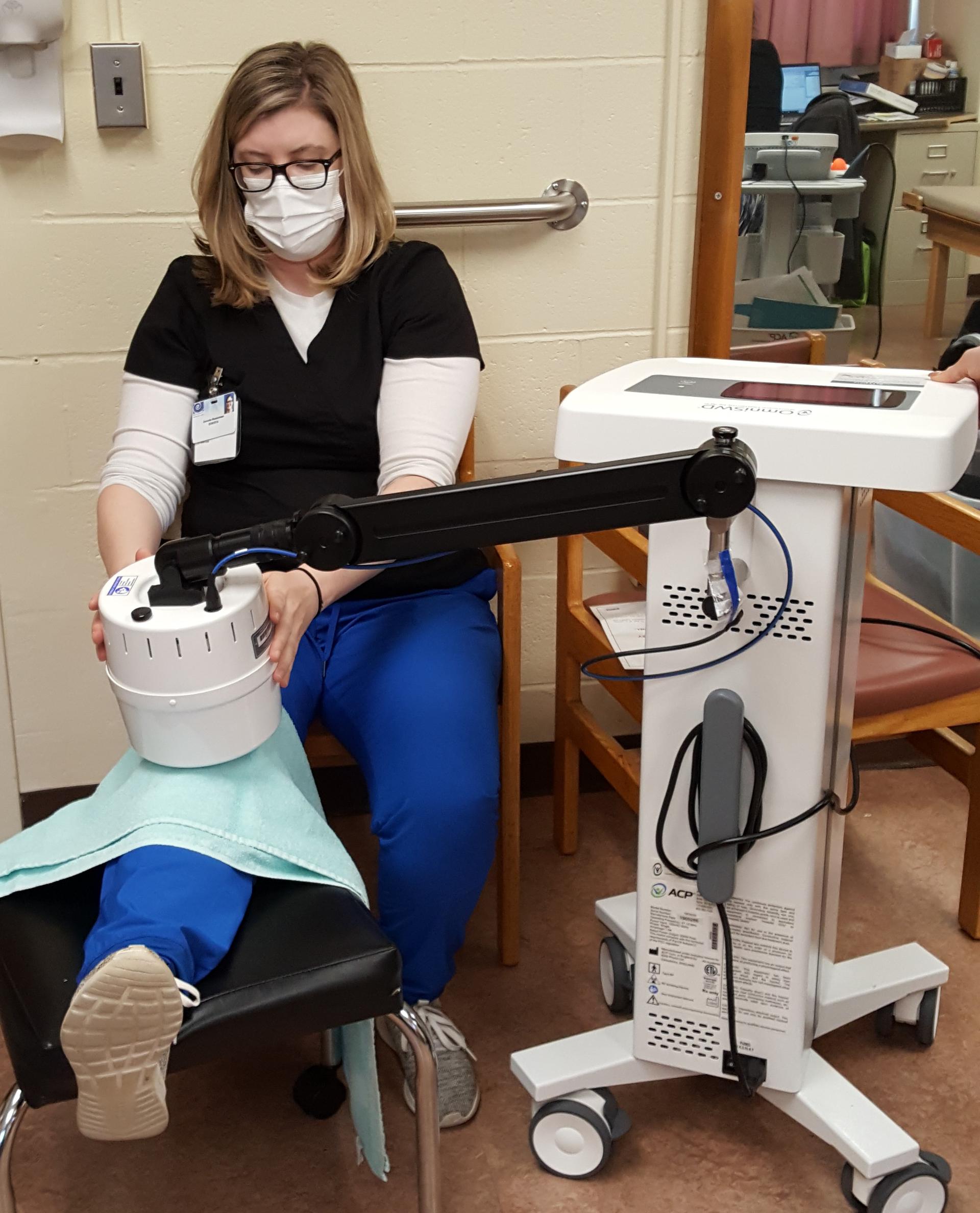 According to Danielle, "This new, portable therapy equipment has allowed us to enhance our therapy services and provide the excellent care Bethany residents deserve, even in the comfort of their own rooms. Several of our residents currently use the equipment as part of their treatment plans for pain management and neuromuscular re-education, with positive results thus far."
Because of you, Bethany residents are enjoying a healthier, more active and fulfilled lifestyle. On behalf of Danielle and the Rehabilitation Services team, and all of our Bethany residents who will daily benefit from your generosity, THANK YOU for making this possible.

Thanks to Our Corporate and Foundation Partners
We are especially thankful for the following businesses and foundations and their generous financial support.
Disciullo Construction, Inc.

Stephen and Mary Birch Foundation, Inc.

Thank you for caring so much about Bethany's residents and staff. We can't do this without you!
Sister Jacquelyn McCarthy, CSJ, RN
CEO and Administrator